The Atlas is an iconic remnant of Virgon's imperialist history.
Slow and densely armoured the Atlas carrier now provides powerful fighter support for modern Colonial fleet groups.
Description
Edit
The Atlas carrier is the only way for Colonial Fleet to carry two squadrons in a single ship without the expense of a Battlestar. It is the least manouverable vessel in Colonial Fleet by a significant margin, and this combined with its limited and inaccurate weaponry make it of limited use as a battleship.
However, its heavy broadsides can provide valuable supporting firepower to other warships if agility is not required.
The Atlas's very heavy armour is essential, as this clumsy ship will be unable to flee a fight. Unusually for a large Colonial ship, its armament is vertically symmetrical.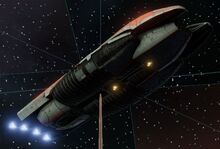 The Atlas is the largest Colonial ship not to carry any guided munitions launchers. Its weak DRADIS will also be outclassed by any other fleet ships around it.
| Sector | Armament | Position | Range | Fire Rate | Accuracy | Damage | Number |
| --- | --- | --- | --- | --- | --- | --- | --- |
| Broadsides | Heavy turret | Broadside | 5km | Very low | Very low | 2 | 3 |
| Top | Heavy turret | Dorsal | 5km | Low | Low | 2 | 2 |
| Bottom | Heavy turret | Ventral | 5km | Low | Low | 2 | 2 |
| Munitions | | | | | | | 0 |
Armour
Top

140

Rear

80

Side

120

Hull

135

Front

80

Bottom

120
| Metric | Capability | | |
| --- | --- | --- | --- |
| DRADIS range (m) | 4000 | | |
| FTL cooldown (turns) | 4 | | |
| Speed (m/s) | 85 | | |
| Turn rate (degrees/?) | 36 | | |
| Size class | 4 | | |
| Munition reload time (turns) | n/a | | |
| Fleet points | 1050 | | |
| Normal build time (turns) | 5 | | |
| Normal build cost (tylium) | 450 | | |
| Rush cost (tylium) | 1050 | | |
| Generation | | | |
| Blueprint Cost (Requisition) | | | |